Maya
8 Hardware Your Restaurant Needs
In this day and age, restaurants need the most up-to-date technology to help waitstaff create the most superior customer service experience possible. The restaurant technology industry has made great strides toward cultivating advanced hardware that you can invest in to make your restaurant truly successful.
Although there are many different tools you can use to make your restaurant run more efficiently than ever, these eight devices will set you well on your way to greatness.
Touchscreen Point of Sale Terminals
Point of Sale terminals are more than just cash registers now. Easily train new workers on intuitive touchscreens which are more durable, allow for faster ordering and payment experiences, heighten order accuracy by sending tickets directly to the kitchen, speed up table turns, and offer flexible but secure payment methods so customers have better control over their transactions.
Order and Pay at Table
Tablets can act as the Point of Sale now which makes it easy for customers to pay for their meals right from their seat. This is speedier and improves order accuracy because customers can look over their own tickets before submission. It also reduces labor costs and improves table turn times to digitally send tickets straight out the kitchen. One-third of guests today consider pay-at-table capabilities extremely important to a superior dining experience.
Handheld Point of Sale
Mobile PoS aren't just beneficial for customers but good from the employee side of business too. Servers submit tickets right in front of the customers to close checks faster, streamline operations, and increase how quickly meals come out to the tables which in turn raises the number of orders you can fill per shift. Servers can spend more time forming positive customer relationships which ultimately cultivates a better guest experience.
Online Ordering Systems
Since COVID-19 especially, customers increasingly prefer off-premise dining. Developing strong pickup and delivery streams caters to consumers who are understandably concerned about coming face-to-face with other people while this pandemic proliferates. Online ordering is the ultimate convergence of speed and convenience; customers order their favorite meals from their smartphones, from the comfort of their own homes. Contactless delivery options make this an increasingly preferable (and safer) alternative to third party platforms because you get to reap all the rewards rather than paying those high commission fees.
Self-Order Kiosk
More than half of guests consider self-service options extremely important to a positive dining experience. A trend that's been growing amongst QSRs and fast-casual establishments for years, the self-service Kiosk by eatOS comes with an easy-to-use interface that cuts down on cashier lines and gives guests more time to review and customize their order. Automatic upselling prompts and easy order modifications increases the average check size up to 30%, meanwhile your staff can focus on under-valued aspects of the business. Self-Order Kiosks streamline and tighten up all aspects of your operations across the board.
Contactless Payment
Customers are enjoying a recent boon in new payment methods that cater to their various preferences. For example credit and debit cards remain more popular than cash, but the ongoing COVID-19 pandemic has meant a rise in near-field transactions, tap to pay and mobile wallet solutions. All of this reduces face-to-face and physical contact between guests and employees, which keeps everyone safe during a time that social distancing is so important.
KDS
Kitchen Display Systems provide order in an otherwise hectic environment. They're increasingly common in commercial kitchens, providing a mounted digital screen to host the order queue so all the cooks can see a clear breakdown of when orders were submitted and how much they have left to make. Digitization means no more physical tickets that get lost or easily damaged, while the reliance on technology also saves money and benefits the environment to boot. In regards to your operations, orders get filled more quickly and accurately when they go directly from the PoS to the KDS, improving the guest experience simply by organizing all open orders on one easy-to-read screen.
Printers
Many restaurants choose to print physical tickets for a variety of reasons, and as a result printers have evolved like every other piece of restaurant technology. Thermal printers for the front of house work quickly and silently so customers don't have to wait for their receipt, while thermal technology forgoes the use of ink to save managers money. Kitchens are equipping themselves with impact printers which are more durable to withstand the heat of the kitchen, print loudly so cooks can hear it over the bustle of their work, and can print in different colors to highlight certain lines on the receipt. Even the most basic of restaurant functions are being improved by advances in the field.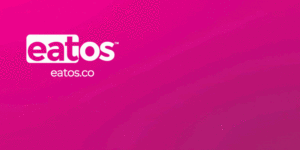 These are just a few of the devices eatOS offers to make your restaurant run more efficiently. With our advanced Point of Sale and other state-of-the-art hardware, we have everything you need to run a profitable restaurant business. The future of hospitality is now: Is your restaurant ready to join the modern consumer in the technologically-advanced new world of food service?
#eatOS #PointofSaleforRestaurants #RestaurantBusiness #CloudTechnology #Restaurants